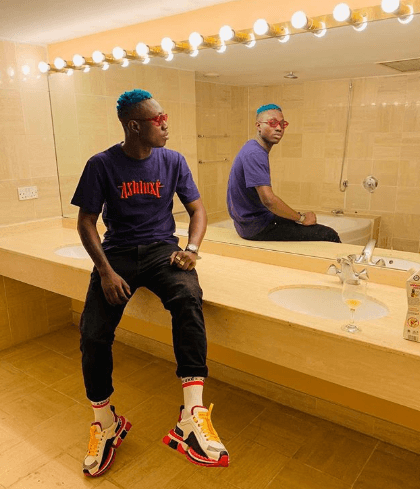 Zlatan spent over 1.2million naira on just one outfit. Absurd right?
Zlatan would not be the first and last Nigerian artiste to flaunt expensive designer wears as the likes of Davido, Wizkid, Tiwa Savage are always clothed in very expensive attires. However, he is the latest to spend an enormous amount on just clothing.
The singer took to his Instagram page to share a picture of his very stylish outfit and also to reveal that a large proportion of his income is spent on clothes. He wrote "I spend money on the things I wear !! ??
.
Looking closely at the picture, one would think he is a Balenciaga ambassador because his entire outfit is a complete set from the fashion brand.
Here is a breakdown of his outfit:
Balenciaga Pouch Strap costs $695 dollars equivalent to N250,200
Balenciaga Track Led Trainers costs $995 equivalent to N358,200
Balenciaga BB0003 Rectangle glasses costs $339 equivalent to N122,040
Balenciaga All Over Logo Normal Fit Shirt costs $595 which is equivalent to N214,200
Balenciaga Pants costs $850 which is equivalent to N306,000
The total amounts to $3,474 which is exactly N1,250,640